We are pleased to announce the start of WA State Chess League which consists of team chess matches featuring four WA teams in Snohomish County. The team matches are casual/unrated and will take place over the board at alternating locations. Rosters for each team are shown in tables below. The 2023 league matches are taking place in March and April of 2023 (see schedule at bottom of page for details).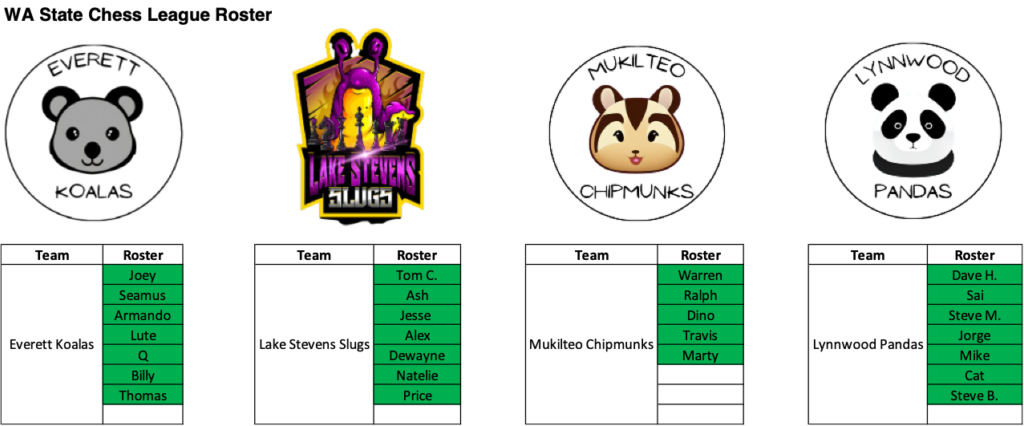 Four teams compete in a four round Swiss.
Each team participates with four players. Each team assigns a team leader to their team. The team leader represents a team for all official decisions and serves as the main point of contact for the team. 
Games are played in person starting first Saturday of March (see schedule below).
Players from the same team don't get paired up against each other.
An individual may not simultaneously be part of more than one team roster.
The league winner is a team that has the overall best score after completion of all team matches. If a team has the same score as another, individual match scores are tallied and highest score determines the winner.
The following match format applies:
Four teams play in a team match.

Matches are all-play-all:

Round 1: B4 vs. A1; B3 vs. A2; A3 vs. B2; A4 vs. B1.
Round 2: A1 vs. B3; A2 vs. B4; B1 vs. A3; B2 vs. A4.
Round 3: B2 vs. A1; B1 vs. A2; A3 vs. B4; A4 vs. B3.
Round 4: A1 vs. B1; A2 vs. B2; B3 vs. A3; B4 vs. A4.

The time control is 10+5. Touch-move rule is in effect – if you touch a piece you must move it
Points are awarded as follows: Win = 1, Draw = 0.5, Loss = 0
To keep the teams competitive please use the table below as a guideline when selecting players for each board on your team:
Please note that you can join ANY of the four teams (if space is available) and the goal is to have evenly matched teams.

The following tiebreaks apply to every match:
If there's a tie, the teams play again with the same pairings as round four with swapped colors and a 3+2 time control.
If the tie persists, players swap colors and play again.
If still tied, players swap colors once more and play again with a 1+1 time control until a team wins.
Teams' rosters must have a minimum of 4 and a maximum of 8 players.
Players are not locked to a roster until they play at least one game.
If a player cannot make it to the team match another player on that team can be substituted in the lineup.